Knowledge Pack
Computerworld's 2017 Premier 100 Technology Leaders: Highlights and stats
Facts and figures about the honorees' 2017 budgets, purchasing plans, staffing needs and more.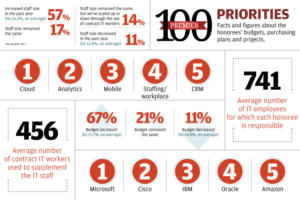 Computerworld's Premier 100 Technology Leaders, class of 2017, control IT budgets exceeding $10 million on average and directly supervise an average of more than 700 IT employees. In this one-sheet listing of honoree highlights, find out which projects these elite tech executives are tackling in the year ahead, and where they're placing their tech investment bets. Also, see stats on their use of contractors and regular staff to deliver successful projects.
Download the PDF to use in your own presentations or share with colleagues.