Knowledge Pack
Computerworld's IT Salary Survey 2017 results
Our free 29-page report shows current salaries for dozens of tech titles, plus details about IT pros' top concerns, the state of the job market and the hottest tech specialties.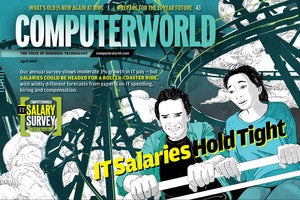 The 2017 IT Salary Survey results are in! Our 31st annual special report digs into the state of IT spending, hiring and compensation this year.
You'll find salary listings for more than 40 IT job titles, along with in-depth features exploring fast-growing tech fields and ways IT departments can attract, motivate and retain the best workers. The report is peppered with charts that show how the 2,700 tech professionals who took part in our survey feel about their jobs, salaries, career prospects and much more.
What's inside:
IT Salaries Hold Tight
Our annual survey shows moderate 3% growth in IT pay — softer than the strong pay gains of 2015 and 2016, but certainly better than the anemic raises IT pros saw for years following the economic downturn that began in 2009. Is the slight lag in raises an early indicator that a spending slowdown may be on the way, or is it merely a speed bump, with strong IT spending, hiring and pay gains to continue next year? And how will the unpredictable new White House administration affect tech jobs in the year ahead? IT leaders, staffers and analysts are deeply divided, offering wildly different forecasts on IT spending, hiring and compensation.
IT Pay by the Numbers
View salaries for more than 40 senior IT management, middle IT management and technical staff positions, and see how our survey was conducted.
Four High-Growth Tech Fields With Top Pay
Want a big salary bump? Application development, security, data and analytics, and cloud computing skills are in particularly high demand this year and are among the best paying specialties in IT. Fortunately, those four areas represent a broad array of opportunities for IT professionals looking to advance their careers and boost their paychecks. We explore how each field is shaping up in the job market, looking at the hottest skills and emerging subspecialties, as well as some interesting crossover roles that require expertise in more than one of the four main disciplines.
How to Motivate the Modern Tech Worker
The war for IT talent continues to rage, and despite rising salaries, IT managers are having a hard time filling tech positions. What's more, they're worried about keeping the skilled workers they've got. Big salaries and bonuses are always welcome but only go so far, according to the IT leaders and staffers we spoke to. Creative perks can help employers stand out in the crowd, they say, but what really keeps workers around is a positive company culture. Find out how IT leaders with proven track records are attracting and retaining top tech talent.